Posted by
James Trenchard
The Essential DIY Wedding Checklist
With the average cost of a wedding in the UK coming to a staggering £31974 in 20191, planning your own wedding might seem like a no-brainer. It certainly has a lot of potential to save you some serious money and not mean that you'll be paying it off for years after (this is quite a common thing). We'll be honest, it's not the least stressful thing you'll ever do in your life and you really do need to be committed to the DIY mindset if you're going to go through with planning your own wedding.
That being said, being your very own wedding planner will mean that you have almost complete control over every aspect of your special day, from the invites to reception. You won't have to stick to as many constraints as booking with somewhere like a hotel or wedding venue.
The key with your wedding planning checklist, is to work out each of the following, most important aspects and finding something that you like and that works for you as the bride(s) and/or groom(s). It also a great idea to drawing on the skills of people you know. We'll explain all below, so have a look for yourself.
As well as everything in this article, we also have a great range of articles with other helpful tips and stag and hen do ideas which you should definitely take a look at when you have time. We'll be glad to help if you have any questions at any point too.
What To Include In Your DIY Wedding Planner
Wedding Dress and Suits
Probably the first thing that a bride-to-be will think about arranging will be her wedding dress. It's more than likely that she has been thinking about her dream dress for a long time and planning your own wedding doesn't mean that you have to choose something completely different. Go and try on as many dresses as you like until you have a fixed idea of the style you're looking for. From there, look on social media sales sites, places like ebay, see if any friends have a wedding dress of the same style, look for sales in dress shops and you will find what you're looking for at a much more affordable price. If it's not something you'll consider compromising on then fair enough, but a wedding dress is (usually) only worn for less than a whole day and your guests will unlikely know how much it costs unless you tell them.
The suits can be treated in a similar way. Do some searching and you'll likely find the suit style you like. If everyone already has their own suits, this could also be an option.
Hiring your wedding outfits is also a great DIY wedding choice (dresses and suits can all be hired) and will help to keep costs down.
For a less traditional style of wedding, you could choose whatever clothing you wanted and this may be one of the best options as the word 'wedding' tends to bump up the prices of anything. You could pick pretty much any style that you like and find it more readily available.
Bridesmaids and groomsmen outfits can follow the same ideas as above, or, if you're not too fussed about everyone all wearing the same things, you could give them a brief and they buy their own wedding outfits (after you've given them the thumbs up).
If you know anyone that is a seamster/seamstress, this could be a great way to keep costs down. Making the kravats, dress alterations etc can be something which can be expensive little additions to a wedding budget, but buying fabric and organising these kinds of things can cut some of the additional wedding costs.
~ Making your own invites gives you freedom and saves money ~
Wedding Invites
The invites can cost a pretty penny, with various pages, inserts and decorations, but are easy enough to make yourself and keep the costs down. Your wedding guests will more than likely love the personal touch as well, instead of getting a 'generic' wedding invite. You can do whatever you like with your invites, based on your budget, what is going to be going on during the wedding day and anything else. Making them really personalised won't be difficult either.
Wedding Cars
Often a HUGE cost for a wedding will be the car(s). If you are set on having old cars from times gone by, you could always consider just having one for the bride and maybe even one that takes the bridal party in its entirety. If it's purely cost you're trying to keep down then you could possibly book taxis or get someone you trust to drive you. Old cars look great in photos, but it's likely that noone is going to look back at your photos and think "where's the old car?".
Wedding Photographer
It's the same with anything... add 'wedding' to the front of anything and the price seems to rise exponentially. With a wedding photographer it's no different, so as a DIY wedding planner, you can save some money here. You could ask someone who you know takes a great photo and has an affinity for the hobby. There's no reason that the photos won't be the same (or even better) than a photographer you pay £££ for. In fact, if it's someone you know well, the chances are that they will create some amazing photos to remember your big day with.
Wedding Venue(s)
Arranging a wedding venue will no doubt be the biggest single outlay for a wedding, so it should really offer the biggest opportunity for saving some money on your DIY wedding checklist. For example, you could look into have the ceremony in a town hall, with a few special friends and family, then have a big party later to celebrate with everyone. Hiring a house or village hall can be a fantastic way to save some money and also invite lots and lots of people to celebrate with you. If you want a big church wedding, check where the closest hall is for hire and this could be a great choice. With big wedding venues often being very expensive and not allowing loads of people without huge extra costs, community halls and private houses offer a great solution to both problems.
Wedding Cake
Find out if you have a friend that likes to bake and give them plenty of notice of what you want. This will mean that you get the cake you'd like and also saves a heap of money. You could always have a go yourself, but with the rest of everything to organise, this may be a touch too much.
~ You don't have to stick to traditional cakes ~
Wedding Flowers
Stick to the wedding bouquet and button holes only and you'll make it easy for yourself. If you do want flowers for the wedding ceremony venue and/or reception venue, we'd advise to have a good look around. There are some fantastic local flower shops which may be more willing to help you out, especially if you are from the area.
Hair and Make-up
The bride will want this to be perfect on the day, for her and her bridal party. Using your usual salon will give you peace of mind and they may also give you a discount if everyone uses their services (it's worth asking). They might even send someone to you so that your hair can be done without worrying about travelling. If you know anyone who is really good at make-up, or if you're confident in your own abilities, these will be much cheaper than paying someone. There can be a lot of nerves on a wedding day, so that's something to bear in mind, but it's ultimately a toss up of what you want and what you think you can afford.
Wedding Day Meal
Feeding the masses and keeping costs down is very much achievable. Something like hiring a Hog Roast or similar (maybe a big BBQ) can be a real crowd pleaser. You may want to put together a spread of bits like salad stuff, cheeses etc to go with it, but it will definitely be a whole lot cheaper than the standard wedding venue. Obviously, this option is most achievable if you're hiring a hall or similar, but some wedding venues may offer a menu which offers an alternative, close to what you're after.
Hiring crockery, cuttlery, glasses, table linen, chairs etc. can be great, it'll just require someone trustworthy to collect everything and drop back.
Wedding Table decorations
If you're going to a wedding venue already set-up for it, you'll almost certainly be offered a choice of table decorations. If you're looking at the community hall option, there are some fantastic ideas you can find out there. Whatever you're thinking of doing, it can probably be bought second hand or hired for next-to-nothing. It doesn't take a lot to add something special to a table and if it's created by you, then it makes it that bit more special as well. One idea we have (taken from someone in the office here) is fishbowls filled with water and floating candles which use normal cooking oils to burn. The oil floats on the water and is barely noticeable. The water can be changed to the colour of your theme with the addition of some food colouring. Simple but very nice.
Wedding Table Plan
We didn't want to leave this off, even though it can be quite simple to sort. Hit a craft shop hard and make the board to your exact specifications. You can then make it as fancy or simple as you like and can potentially also make any essential last-minute changes.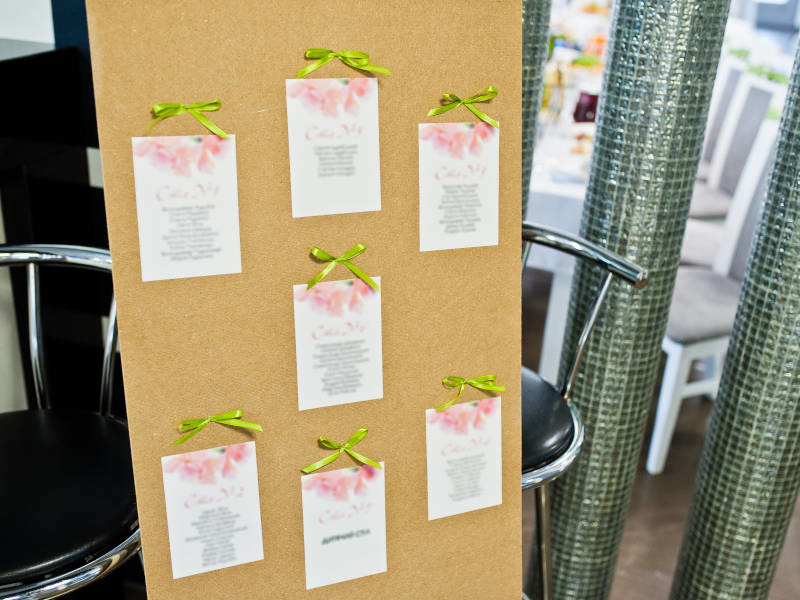 ~ Do as you please with your own table plan board ~
Wedding Venue decorations
A hall can be transformed into a wonderful venue. You can hire, borrow or buy drapes for any venue. Net/lace and/or other materials which match your colour theme can be found on the internet, local haberdashery shops or department stores like Trago Mills (you may have an equivalent place closer to you).
Wedding Reception and Evening buffet
Heading to a bulk discount/wholesale shop like 'Booker' can be a great way to feed all of your guests. You'll probably need to know someone with a members card, but it's well worth it. You can put on a great buffet (you'll probably need to acquire the help of a few people to make it happen on the day) for a very affordable price.
Hiring everything yourself will also mean that you will have to more than likely tidy everything up as well, but your friends and family will hopefully be willing to help you with this.
Bar
Drinking is a big favourite during weddings. The bride and groom will almost certainly be grateful for a nerve-settler and the wedding guests will be looking to have a real party. If you're going to be a DIY wedding planner, don't forget the bar. If there's a bar at the venue of your choice then great. If not, you could look to a local pub to hire their services to come to the venue. Alternatively, you could purchase as much alcohol and soft drinks (for the children/pregnant/drivers etc) as you have a budget for, again from somewhere like 'Booker'.
Entertainment
No DIY wedding planner can miss the evening entertainment off of their wedding checklist. There are usually local DJs for hire and for the day you could look for a friend who has some useful juggling talents and/or hire some garden games like giant chess/Jenga.
~ Keep everyone amused during the 'down-times' ~
Being Your Own Wedding Planner - In Summary
In general, being your own wedding planner will require some considerable thought and won't be without it's tests. Having a wedding checklist will certainly help and should mean that you don't forget the most important parts. Ultimately, the best thing to do is to utilise people you know with skills that will help. Those who work with dresses/cakes/cameras etc... will all be great to call upon.
You can also have a look at our articles on the Best Man / Maid of Honour to see what they should be doing to help in general and if you've not yet got anything planned for the stag or hen do then you should definitely get in touch with us to get something amazing planned.
Wedding Planning Checklist
Here is a list of the most important things to consider if you are thinking of becoming your own DIY wedding planner:
Dress

Suits

Invites

Cars

Photographer

Venue

Cake

Flowers

Day guest meal

Table decorations

Table plan

Venue decorations

Evening buffet

Bar

Evening Entertainment
1 - https://www.hitched.co.uk/wedding-planning/organising-and-planning/the-average-wedding-cost-in-the-uk-revealed/ - viewed on 23/12/2019
Share this article