Posted by
James Trenchard
Planning the perfect Bristol hen party is no mean feat, with a group of fun-loving ladies looking for enough to keep them entertained for a weekend away from their usual responsibilities. In this article we address the elements which will help you to decide on what exactly the 'perfect' Bristol Hen Do will consist of. Whether you're simply looking for some inspiration for general Hen Party Ideas in Bristol, or the complete Bristol Hen Party package, it's all here. Have a look below and/or give us a call to discuss your plans.
Bristol Hen Party Accommodation
Where you stay for any Hen Party is pretty important and usually one of the first things you'll consider. There are almost endless options in Bristol, depending on budget, group size and all of your other requirements, but below are a few suggestions for you to mull over.
~ Choosing your Bristol hen party accommodation is an important decision ~
Village Hotel - A fantastic 4 star hotel, with Pub & Grill, Starbucks, as well as a state-of-the-art gym and swimming pool, making it a perfect getaway for you Bristol Hen Do. With various room types and breakfast available, we think it's one of the best options for a hen do in Bristol. It's also only a 15 minute drive from the city centre, making it perfect for escaping the inner-city noise but still being close enough to be able to enjoy nights out and more.
Travelodge - The most popular 'budget' Bristol hen party accommodation is offered up by 3 different Travelodge hotels, with 2 based in the city centre (both offering breakfast buffets). If you're looking for a more money-saving hotel option then this is it. Travelodge rooms can accommodate up to 3 adults which helps to spread budgets even further and all rooms are en-suite meaning less fights for bathroom space. So if you're looking for a comfy base for a weekend it's definitely worth your consideration.
Private accommodation - A very popular option for Bristol hen party accommodation is finding a private house to hire for the weekend. Generally offering the greatest comfort and level of home comforts, private accommodation allows everyone to chill out a bit more and not having to be up for breakfast between set times. We have various houses that groups have stayed in with us before, but as every group is different, it's probably best to give us a call to discuss exactly what you're looking for.
Bristol Hen Party Activities
The best Bristol Hen Party won't be complete without at least one or two activities, so below you'll find our list of the best Bristol hen party activity ideas.
~ Whether it's relaxing or an adrenaline rush you're after, Bristol has everything for a hen party ~
Cocktail making masterclasses - What's better than making cocktails to celebrate the hen? Nothing, that's what. With a load of different options to choose from and usually making 2-3 cocktails each, this is one of the most popular Bristol hen party activities. Most classes also include food, ranging from a buffet to 3 course meal, also meaning one less thing to worry about.
Dance classes - Get on you dancing shoes! A great way to dance like no-one's watching and have a heap of fun. There are various genres of classes to choose from and will be run at a city centre venue. So whether you want to 'spice up your life' or prove that you are the queens of salsa, this won't disappoint.
Old School Sports Day - Take yourself back to school and tackle the immense fun of space hoppers, sack races, tug-of-war and more. Always a bit of fun and they can be run at a sports centre in the city centre or private accommodation if there's space.
Quad biking - Throw a quad bike around a 450m track with cambered bends, table tops and plenty of humps and bumps. Great for those looking to add some power to the hen party.
~ Take to the track on a quad bike for your Bristol Hen Party ~
Off road buggies - Add a bit more excitement by taking on some off road buggying. Put your foot down and impress everyone by showing that you're the fastest person in a 930cc Rebel buggy.
Go-Karting - Karting is a fantastic addition to any Bristol Hen Party and Bristol hosts a fantastic indoor track just outside the centre. Great for those thinking of getting in to the W series.
Shooting (clay pigeon, assault rifles, archery, paintball and more) - Bristol offers lots of different shooting activities, so if it's (legal) carnage you're after, add one or more of the many shooting activities to your weekend.
Spa treatments - Aaaaand relax. Put your feet up, lie back and let someone help you to forget all your stresses with a spa treatment. These can be at a spa or brought to private accommodation, letting you relax even more.
Boat trip - Cruise around the city centre on a boat. Take in the sights, have a drink and chill out with your group. Perfect for those sunny summer days in Bristol.
Afternoon tea - Include a bit of sophistication with your Bristol hen party by booking afternoon tea. Sample a variety of teas as well as selections of sandwiches, cakes and other treats. Some venues also offer Prosecco as part of the deal, which definitely proves popular.
Food And Drink For A Hen Party
A hen party can only be possible when everyone is fed and watered properly, so we've put together a list of some ideas of where to go below.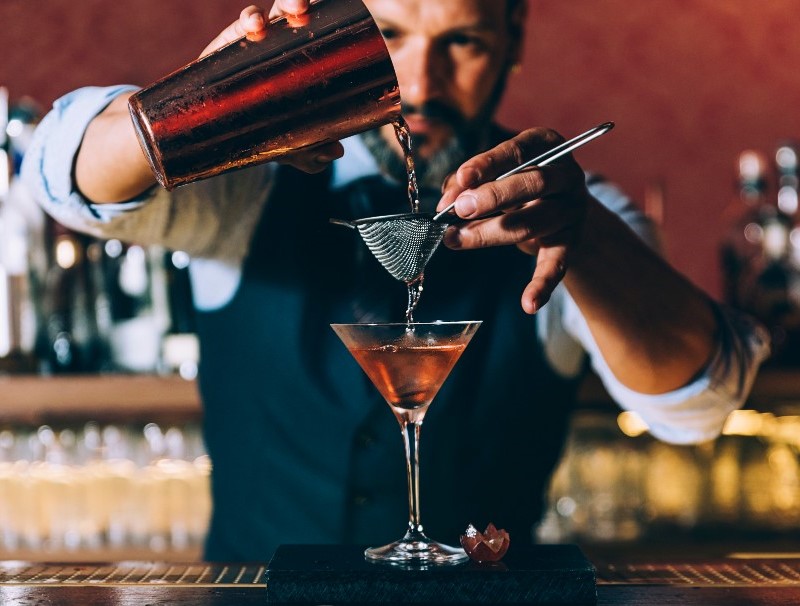 ~ There are plenty of places to grab food and drink for your hen party in Bristol ~
The Stable - A staple for you real cider fans. With a wall of ciders to choose from (most of them locally made) it's one to visit if you like variety. The Stable also has a great selection of fresh food, from pizzas and pies to delicious desserts.
Zizzi - A classic Italian menu serves you very well here. With a great range of dishes and all at very reasonable prices, it's a great option for your Bristol Hen Party.
Za za bazar - All-you-can-eat goes worldwide at Za za Bazar, with foods being offered from across the world. TexMex, Italian and Asian are just a couple of the cuisines offered here. Very popular for those looking to stretch their money that little bit further.
Guest list passes - With so many great places to drink in Bristol, why not add free entry for a few of them? A guest list pass is a great way to get in to the most popular bars and clubs without queuing and lets you all experience what Bristol has to offer.
Apple Bar - A barge sat on the water, offering local ciders and ales. A great bar for warm days, with seating alongside the historic canal.
Milk Thistle Cocktail Bar - A 'speakeasy' cocktail bar, spanning 4 floors and offering freshly made cocktails aplenty. If you love cocktails then this is the one for your Bristol Hen Party. In fact, even if you don't it's worth a visit.
It might also be worth noting our article about how to survive a hangover, just in case you go a bit 'over-board'.
Travelling to Bristol
You've chosen Bristol as a great hen party destination and it's not difficult to see why. As with any hen party destination, travel will need to be considered, based on where people are coming from, how many people there are and how much each person is budgeting. It's possible that transport may have had an impact on you choosing this fantastic city, but if it's not something you've given much thought too, we'll give you the run down on the best ways to get into and around Bristol:
Getting to Bristol
Being a large city, Bristol has great transport links. If you're travelling a long way, you could consider catching a flight to Bristol international airport. With flights from almost anywhere in the UK and various other countries outside the UK, this is an option to consider. It's just worth considering the environmental impact of choosing this option. It may also be quite expensive, however, it may be quickest by a long shot. There are also major train stations in the city (Templemeads being the main station) which gives everyone a different option if they don't fancy driving to get to the hen party. Coach services also run across the UK, arriving in Bristol all the time.
All of these are great options, but we should also mention that Bristol sits right alongside the M5 and M4 motorways, making it relatively simple to find, if you do decide to drive. We'd advise car sharing to reduce your environmental impact. This also means a 'roadtrip' which is likely to create some pretty memorable times on the way to and from the Bristol hen party.
Getting around Bristol
First, we recommend having a look at the 'Visit Bristol' page for some information. This gives details and links to public transport services, including Ferry boats, buses and more. Taxis and driving are also options, as in any city. If you do decide to drive around, parking could be a problem in the city centre, but there are several car parks to choose from, depending on how late you're running and how much you are happy to pay.
Bristol is a beautiful city, so if you plan things well, walking can be a lovely choice, especially if you have a group of you to walk. Head to the bars or an activity you're doing and see the sights, experience Bristol and burn off some of the drinks/food you'll probably consume over the weekend.
This is another case of everyone having a chat to try and work out how individuals are getting to Bristol for the hen party. You may not know where everyone is from and there may be others travelling from the same direction that you could meet with or even lift share etc. Communication will help to solve everyone's travel plans and the sooner you get these sorted, the sooner you can get everything ironed out and focus on an amazing hen party weekend in Bristol.
Book you Bristol Hen Party
Now you have some ideas for the perfect Bristol Hen Party, give us a call to run through exactly what you'd like to organise and we'll make it as easy as 1,2,3!
- Activity Ideas Perfect For A Hen Party
- Great Hen Party Friendly Accommodation
- Cocktail Making Class Plus Other Food And Drinks
- Call us to discuss your ideas.
- We'll send you as many quotes as you need.
- Secure everything with a single £50 deposit.
The Perfect Bristol Hen Party
Take a look at our summary of what the perfect Bristol Hen Party could include:
Luxurious city centre hotels or fantastic apartments

Activities to suit any group, from drinking to driving (NOT at the same time, be safe out there kids), afternoon tea to shooting and everything in between.

As many bars, restaurants and clubs as you could hope for
Share this article