Posted by
James Trenchard
Hen Party Accommodation
Choosing the best hen party house or hen party accommodation is a fundamental part of any hen party weekend to get right. Choose well and everyone will all rave about how amazing the weekend was, possibly raising you to legendary status amongst the group. Now, we know that every hen party group is different and within each group, every person is different, so there isn't one type of hen party accommodation that will work for everyone. Our aim in this article is to guide you through the best parts of each type of hen party accommodation, to help you to decide if it's a hen party house you'd like, or some other place to stay.
If at any point you see the ideal hen party accommodation and just can't wait to get the ball rolling, please do get in touch with us so that we can find you the perfect property for the hen party weekend.
Houses
Hiring a house for a hen party weekend is one of the most popular options. Wherever you choose as your hen party destination, there will be a house suitable for you to stay in for the hen party weekend. From small apartments for little groups, all the way up to mansions with swimming pools, housing big groups, there is a massive variety and selection of hen party houses to look at.
Advantages: Flexibility - You don't have to worry about being awake for set breakfast times. Parking (sometimes) - You could look for somewhere with amazing parking to accommodate all cars for the entire hen party group. Home comforts - You will have all the homely things to make your stay the most comfortable.
Disadvantages: Travel - You may have to fork out a bit more for travel between activities. This could be sorted by driving your own cars or may even be pretty negligible with public transport/some taxi companies, especially if the hen party house is in a central location. Parking (sometimes) - It can be an issue if lots of people are looking to drive, especially in cities, where space could be at a premium. Finding your food - This could be a pro or con, but you'll have to work out whether to cook for yourselves or go out (or both).
~ Go for a chilled vibe and opt to hire a private house for the hen weekend ~
Canal boat weekend
This is a bit of a different idea from the norm, but one that is increasing in popularity. You can hire a canal boat without any prior experience and take to one of the UK's many amazing water-ways. With boat yards in some amazing hen party destinations, it will be a great experience. It's definitely one of the more relaxing weekends as you cruise at a leisurely pace. Take a look at our other article which is all about canal boat weekends (it's written for stag dos, but you will be able to see examples of trips and why they are such a great idea and still work perfectly for your hen party weekend).
Advantages: Relaxing - Navigating canals and locks could be a slight challenge, but ultimately it should be a nice, calm, smooth and relaxing weekend for everyone involved. All in one place - Everything you need for the weekend is on board, so you won't need to go anywhere apart from along on the water, unless you want to. You can even plan pub stops for food so that you don't have to do an absolutely massive shop before setting off.
Disadvantages: Travel for activities - You may find it a bit trickier planning in any activity as you're not always close to civilisation. Planning - As hen party accommodation goes, this is one you'll have to have the most planning in place for. Pub stops, food, activities, travel times between locations... all need to be considered. Space - Although the cabins are all modern and fitted out fantastically with everything you'll need, you will probably spend quite a lot of time on board. Now, this isn't a big deal and you can stand up on board the vast majority of the boats without banging your head, but it's something to consider.
Hotels
A hen party house is great, but considering a hotel instead offers up options that a house simply can't. Have a look at the most popular hen party hotel options below and see what takes your fancy for the hen party weekend.
Village Hotels
Village hotels are the hotels we book for the highest number of hen parties. They are a great place to stay and offer so much.
Advantages: Rates - We get offered great rates which we can pass on to you and the rest of the hen party. Locations - You can find a Village Hotel in the best hen party destinations. Spas - A lot (not all) of them offer exceptional spa facilities where you can choose from loads of great treatments or have an entire day of pampering, without even leaving the hotel. Leisure facilities - All of their hotels have at least gyms and pools, all with the most up-to-date equipment, free weights and pretty much whatever you're looking to do. Murder Mysteries - A very popular activity for a hen party and we find Village Hotels to be one of the best places to host them, with amazing food and great private dining rooms. Pubs - You won't have to leave the hotel to have a drink... need we say more? Coffee shops - Most of the hotels have a Starbucks for your 'morning after' recovery. Free parking - Plenty of free parking so you don't have to worry about tickets or expensive fees. Transport links - There's usually at very least a bus route right opposite the hotel.
Disadvantages: Just outside centre - The only real negative we can think of is that they're all just outside of their respective town or city centres, but this is barely an issue as it should be a quick taxi journey into the centre.
Travelodge
Moving more towards the 'basic' end of the scale, this familiar brand of hotel offers the basics for a great budget hen party option.
Advantages: Location - There is, more often than not, (at least) one of these hotels in the town or city centre. Budget - Keep costs down by choosing this option. Simple - Travelodge doesn't pretend to be something it's not and keeps your stay really simple. A bed, TV, tea and coffee, bathroom etc. Perfect it you're wanting a base for the weekend.
Disadvantages: Food - On the downside, a lot of the hotels don't offer great breakfast options... HOWEVER, a lot also have Harvesters or similar, right next door. You will need to check what's close to wherever you're looking at going, to see what your dining options are.
Luxury
We're being quite vague here, as 'top-end' hotels vary greatly throughout the UK. If you're looking to spend the hen party weekend in absolute style, get in touch and we can point you in the right direction. As the hen will (hopefully) only have one hen party, it could be something that she's set on.
Advantages: Indulgence - Spoil yourself and head to a luxury hotel. You'll find more 'little extras' to make sure that you feel like royalty. They can often also have off-the-chart comfort levels, keeping you super relaxed for he weekend.
Disadvantages: A less budget-friendly option - You get what you pay for, more often than not. This is the same for luxurious hen parties and if you want to stay in heaven, you have to pay the price.
~ Live it up at a hotel of your choice for the hen do ~
Alternative Hen Party Accommodation
If you're looking for something that's a little bit different from the usual 'hen party house', here are some suggestions. These are generally for the hen parties out there looking for more 'adventurous' hen party weekends, but will provide fantastic memories for any group.
Yurts
There are several hen party destinations across the UK where you can choose to stay in a Yurt. Think bloody lovely, completely decked-out teepee, often with a wood-burning stove, comfy double beds and options for BBQs and firepits, to sit around and tell all of your most hilarious stories about the hen. If you're not a fan of camping, but like being away from civilisation, this is a fantastic choice.
Advantages: Escaping - With so much happening in the world, you can truly escape by choosing a yurt camp. You'll be able to get a quiet night's sleep surrounded by fresh air instead of air-conditioning. Farm shop food - often based in the countryside and/or on farms, there may be the opportunity to buy some amazingly fresh produce to cook or take home, or both.
Disadvantages: Rural locations - They are generally based more in the countryside, it's kind of their 'thing' and this can sometimes mean greater travelling time for activities. More basic conveniences - You're not likely to have copper baths and waterfall showers, but that's not really what they're about anyway. They do usually have kitchens or at least cooking equipment to use on fire-pits etc.
Bunkhouse / hostel
A bunkhouse or hostel is great if you're looking for somewhere to stay on a budget and provides a great base for a hen party weekend.
Advantages: Location - Bunkhouses/hostels can be found in city centres, rural areas and everywhere in between, all across the UK. Budget - One of the best-value places to stay is a bunkhouse or hostel. Most bunkhouses and hostels offer private rooms too, so don't think you'll have to share with random members of the public, it'll just be your hen party group, but you may have to be in a few different rooms. Food - a lot of hostels and bunkhouses offer options for full-board at a reasonable price, so you might not even have to think about food whilst there.
Disadvantages: Food - Although some offer full-board, it can be a bit basic (not always though), so you might want to look at all of your options.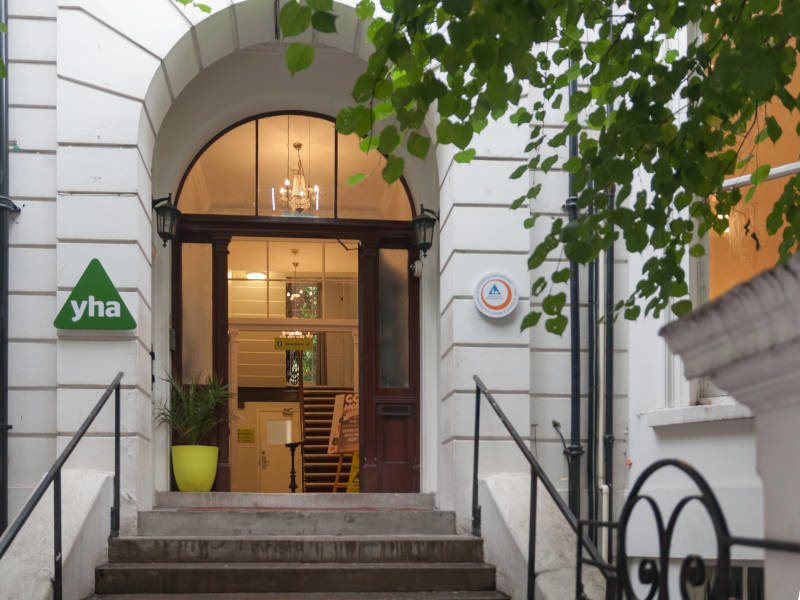 ~ There are some ace youth hostels around to choose for your hen weekend ~
Canoeing and bushcraft trip
If it's adventure you're looking for, a canoeing and bushcraft trip provides everything you're after. You can see a write-up about why they're so great by clicking here (again, written for stag dos but hen parties have also chosen the option for a wicked weekend). This is a whole weekend trip and why it's in this 'hen party house' article will now be revealed. Here's how they usually work: 1) stay at a nearby hotel on Friday night (usually somewhere practically located, like a Travelodge) 2) Travel to the start point and canoe to camp 3) Set up your wild camp, make a fire, learn some basic survival/bushcraft skills and cook dinner (have a few drinks and a proper laugh too) 4) Stay the night at your wild camp site 5) Canoe back to the start point 6) Go home.
Advantages: Get away from it all - You will seldom find accommodation as part of a hen party weekend where you can escape from the general public as much as on these trips, with your group being based on land which is unlikely to be disturbed by anything other than the wildlife. Something different - Not all hen parties will be able to claim that they learned something genuinely useful on a hen party (cocktail making may not provide too much survival information).
Disadvantages: Locations - There are only a handful of places around the UK where these trips run, due to what they offer. They also tend to be quite remote, so if you 'need' your phone to check social media, this might be one to leave alone.
Booking your perfect hen party accommodation
With all the help we've provided above, you might have a great idea of where you would like to stay for your hen weekend. Whether it's a hen party house, hotel or anything else, we can help you to put a great package together including your hen party accommodation and activities. All you have to do is simply get on the phone to us and run through your plans. We'll then provide you with some great quotes and you can pick your favourite. Once you've picked the best package for your group, we'll book everything with a £50 deposit, handle all payments from the group and provide you with all the details you'll need to have a great weekend, whatever you choose as your hen party accommodation.
A Summary About Hen Party Houses
There is almost a bottomless selection of hen do accommodation to choose from, so we'll give you the run down of the most popular options:
Village Hotels

Travelodge

Luxury Hotel

Yurt Campsites

Bunkhouse

Youth Hostel

Canoeing and bushcraft trip
Share this article