Posted by
James Trenchard
What is a Canoeing and Bushcraft trip?
A canoeing and bushcraft stag do involves exploring rivers and/or lakes in Canadian-style canoes. The most popular options run for 24 hours, usually departing in the morning and returning for the same time the next day. On most trips, once you've got all of your kit packed in to the canoes, you will set off and venture into the wilderness. On those which included both together, having canoed for a few hours and channelling your inner Carter Johnson, you'll then stop and unpack everything.
From then on, you'll learn some basic survival skills such as animal skinning, food preparation*, fire building/starting, shelter construction, navigation and possibly more (we'll discuss some extra activities a bit further on in the article). Each trip is unique and will be modified to suit everyone's requirements, so it doesn't matter if you have no experience or you're just looking for a great weekend with like-minded adventurers.
These trips are always popular and can be run at any time of year, depending on the weather. We can advise on the most suitable trips based on your requirements so give us a call to see what your best options are for a Stag Do Canoeing and Bushcraft Trip.
*Most dietary requirements can be catered for with prior notification.
What Equipment Do I Need for a Stag Do Canoeing and Bushcraft trip?
As with any outdoor expedition, there will be a requirement to bring along some of your own gear. Firstly, you'll need a canoe... Ok Ok, that's not true. Canoes, paddles and everything associated will be supplied for all trips, wherever you decide to go. Most trips have food and drink supplied and those that don't supply the food will supply the cooking equipment. Below is a brief list of the kind of things that you'll definitely need to bring on all of the trips:
- Suitable outdoor clothing for the weather conditions (please check the forecast prior to your event). Wear or pack plenty of warm clothing, including a hat & gloves, plus waterproof clothing.
- A spare change of clothes.
- Outdoor shoes for wearing around the camp.
- A head torch (or a standard torch if you don't have one).
- A roll matt and warm sleeping bag.
- Any alcoholic drinks and snacks.
- Plate, cutlery, mug.
- Medication if required.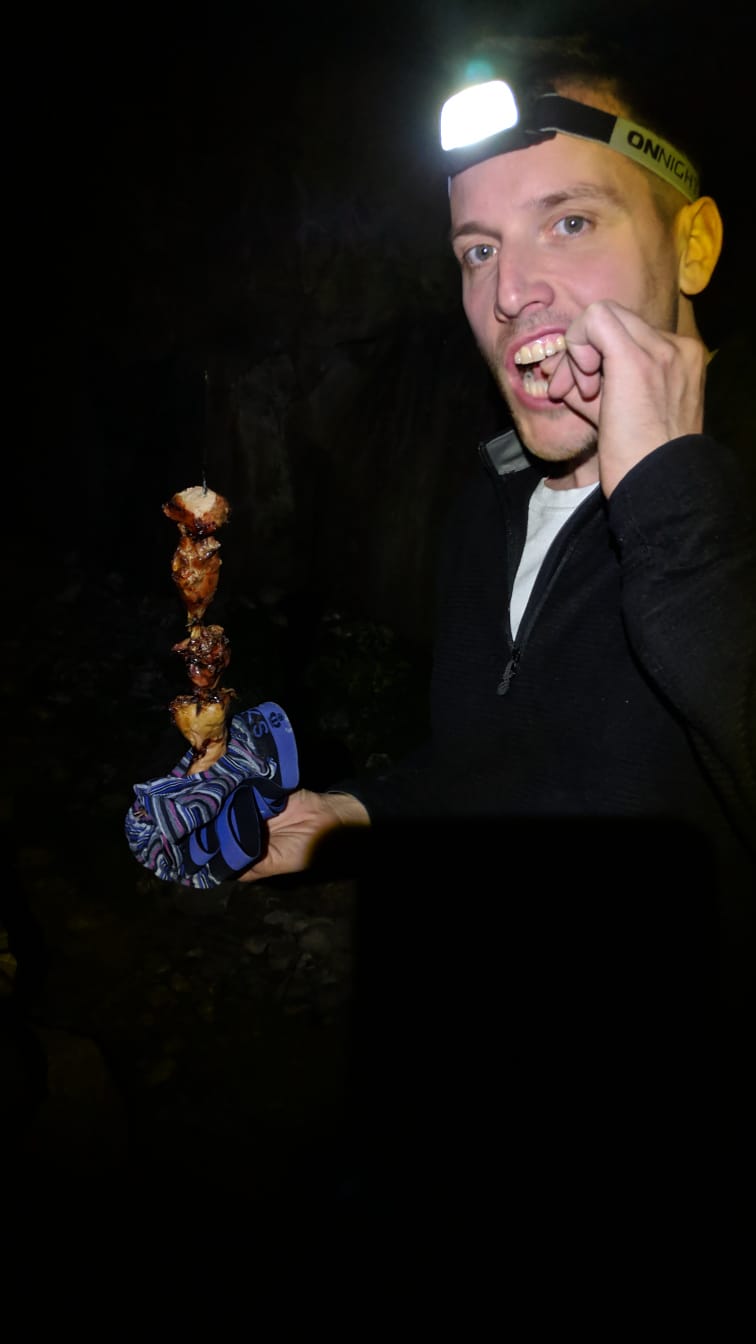 ~ The fun doesn't have to stop when the sun goes away ~
Other trips may require the following:
- Wellington boots to wear whilst you're on the river (some locations are tidal and so it can get very muddy getting in and out of the boats).
Generally you will pop all of this in a rucksack or holdall and wrap your sleeping bag and clothes in bin bags or a dry bag. You will generally either take your kit in the canoe with you or in a storage barrel behind the canoe. A range of affordable outdoor kit is available from most outdoor retailers and if you have any questions, we can answer them when you get in touch.
Stag Do Canoeing and Bushcraft locations
There are trips throughout the UK making sure that wherever you are based that there will be a trip within, at most, a few hours drive (Great Yarmouth is about the furthest point from any of the trips below at around 4 and a half hours away by car, but trains are great for cutting down journey times). We always have great feedback about the trips below:
~ Heading out on the water with everything you'll need for a weekend ~
England
A fantastic trip run in and around Poole harbour. You'll start by the harbour and venture off into the local wilderness. The guys who run this trip have vast experience of the area and taking stag dos on these trips.
Example itinerary:
- Learn the pillars of survival, fire, food & shelter.
- Wild camping in Poole Harbour.
- Make your own shelters using tarps, ground sheets etc.
- Learn fire lighting techniques and get the camp fire going.
- Cook your evening meal & breakfast baps over the camp fire, including a possible animal skinning task.
- Relax around the fire with a few beers in the evening or head out for a night walk & deer spotting.
- Trip includes evening meal on Friday/Saturday, breakfast on Saturday/Sunday.
- Mid to late morning finish on Sunday.
South West - Devon - Stoke Gabriel
Run on the tidal River Dart, you'll get to explore miles of the river and set up camp along the banks. This trip is really scenic and the wildlife along the river offers plenty of photo opportunities, with Otters and Seals often spotted.
Example itinerary:
- Meet up with your expert guides for an introduction to the trip.
- Load the boats with all your kit and paddle to a remote wild camp site nestled on the banks of the river.
- Arrive and setup your base camp. You'll learn a range of camp craft, bushcraft & wilderness survival techniques and activities to facilitate this, including shelter building and fire lighting.
- Build your own shelters and experience wild camping beside the river. Pitch a hammock between the trees, make a ground shelter, a traditional natural shelter using sticks and leave (not always available), or bring a tent to pitch.
- Learn traditional fire lighting techniques and build a roaring camp fire to keep your warm and provide the cooking stove for your bushcraft meals!
- Additionally you may be able to select shooting, game food preparation (rabbits, pigeon, pheasants of maybe fish), wood carving (spoon making, bow making or spear making for example), fishing, wild food foraging, navigation & tracking, trap setting and more.
- The evenings make this event special. Relax around the large camp fire with the group enjoying your favourite tipple! There's plenty of log seating around the fire to keep everyone warm and a parachute canopy to keep you dry just in case.
- Includes evening meals, cooked breakfast and basic bushcraft lunch, plus soft refreshments.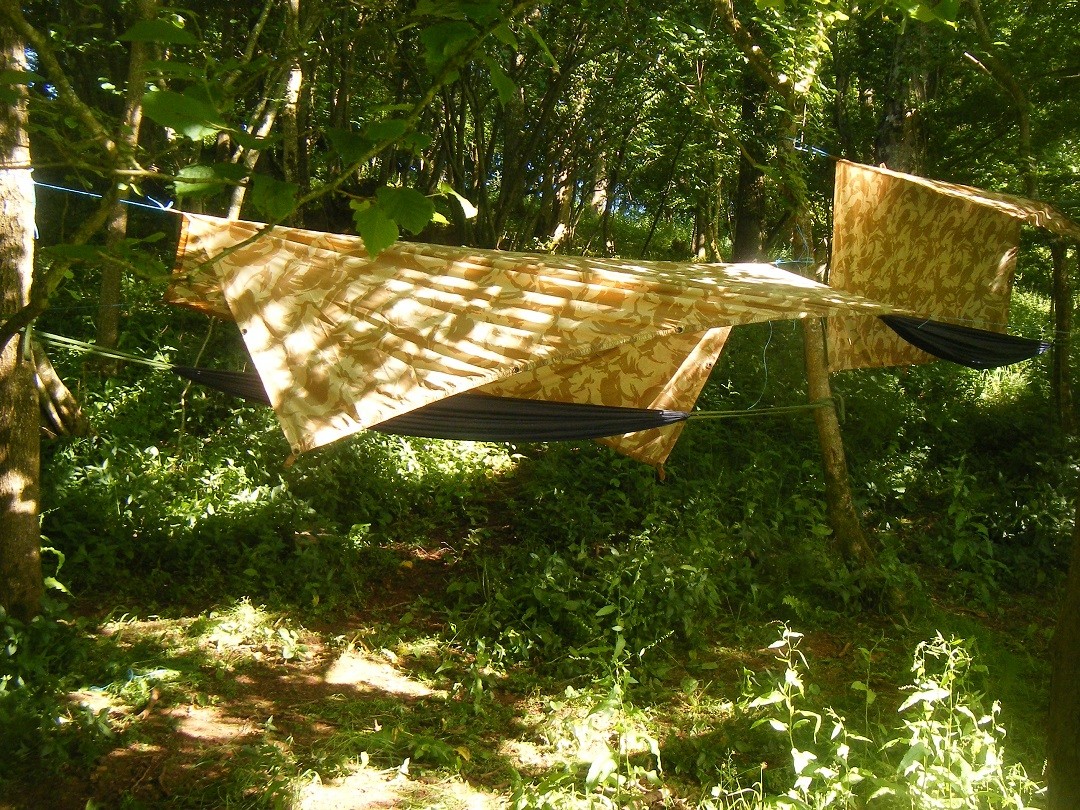 ~ Some of the trips will consist of sleeping in hammocks set up between trees ~
Scotland
South East - Peeblesshire - Peebles
The River Tweed is a perfect river for a canoeing and bushcraft trip, especially for those based in the north of England or Scotland. The river flows steadily meaning that it is suitable for anyone. The starting point is only a short drive from Edinburgh, which is ideal for transport links.
Example itinerary:
- Canoe along the River Tweed, some exciting rapids to navigate along the way.
- Wild camping on the banks of the river. On arrival at camp, you'll quickly learn the four pillars of survival: fire, shelter, water & food.
- Setup your shelters (tent/hammocks or bivy where appropriate).
- Get the camp fire going using the flint and steel fire lighting technique & water purification.
- Cook your own food over the camp fire for dinner & breakfast.
- Relax around the camp fire with a few beers in the evening.
- Bring your own food for lunch, dinner and breakfast.
Wales
North - Denbighshire - Llangollen
North Wales is just about as wild as you can get. The course run here is perfect for anyone however, with great guides who know the area like the back of their weathered hands.
Example itinerary:
- 1 night wild camping in the woods at our woodland basecamp.
- A full day of activities including bush craft survival skills, canoeing across the aqueduct on the final day.- Great food cooked throughout the trip, all meals included.- Guided by very experienced, qualified and personable guides and instructors through the weekend.
- Unique night activities to really make the most of each night.
- Photo's and videos are taken throughout the trip and presented at the end.
South - Breconshire - Brecon Beacons
The Brecon Beacons are also pretty wild and will certainly show you a great time. This trip consists of separate canoe and bushcraft elements but you'll still come away full of knowledge.
Example itinerary:
- Travel to the Brecon Beacons Lakes/Reservoirs for Canoe Session to involve games and navigation and 4/5 Kilometre Canoe journey.
- Then from the Canoeing on to Talybont on Usk for a pub lunch.
- From the pub travel by coach to a location for drop off and walk 3KM to Bivi site, bushcraft and overnight.
- Next day clear up and pack.
- Possible navigation on site and walk to transport 3KM.
Extra activities possible on outdoor adventure stag weekends*
As well as all of the normal canoeing and bushcraft stag do activities, there are sometimes extra activities that can be part of the weekend. Below are some of the possible extras that might be possible over the course of the weekend:
- Shell fish foraging - Some rivers are home to mussels and other shellfish and it may be possible to try and collect some for your dinner.
- Bow making - Gather the perfect materials to make your own bow and live your best 'cave-man' life.
- Air rifles/archery - If making your own bows is 'a bit much effort', it may still be possible to take everything along in the canoes or air rifles could also be a possibility.
- Pub stops - There are pubs along a few of the trips' routes and it could be possible to pop in for a quick bite to eat and/or a pint
- Canoe games - Sometimes there may be spare time to have a play about with the canoes.
- Night walks/animal spotting - Take a stroll off into the countryside with your trip guide to spot some of the local wildlife.
*All extras activities are dependant on different factors such as tides, weather, spare time available etc and so should be discussed during your enquiry
General information about a Stag Do Canoeing and Bushcraft trip
A stag do canoeing and bushcraft trip is mainly focused on exploring your inner neanderthal and getting away from crowded streets, but being a stag do, you'll probably want to unwind with a couple of beers. Of course, a beer or two at the campsite gathered around a fire is completely fine, but there is a general and strict rule that no-one can be under the influence of either drugs or alcohol whilst out on the canoes. This is for the group's safety and the trip guide's insurance and so if you're wanting to just 'get on it', then a canoeing and bushcraft stag weekend probably isn't the right trip to consider.
Start times can vary based on tide times at some of the locations, but are generally from mid morning. Usually we will advise on having a hotel booked to stay at the night before you set off on your canoeing and bushcraft stag do, so that you're reasonably close to where you will meet your guide(s)/start the trip. For example, for the River Dart trip in Devon, a popular option is the Travelodge in Paignton on Friday night and then head to Stoke Gabriel in the morning (around 20-30 minute drive). This means that you don't have travel for hours, risking getting stuck in traffic and can get out of bed a bit later.
Electricity isn't present on any of the trips, as the trips are aimed at being wild. You can take phones/cameras etc to capture the moment that the stag 'falls' from the hands of the group into the river, but be aware that there won't be anywhere to charge up.
~ Relax and have a couple of beers, just don't go OTT ~
Book your outdoor adventure Stag Do Canoeing and Bushcraft trip
With all of the information we've given you, you should be ready to go and buy Ray Mears' autobiography and start immersing yourself in everything canoeing and bushcraft. The next stage is to get in touch with us and start planning your Stag Do Canoeing and Bushcraft trip. Here's 5 simple steps to get your unforgettable Stag Do Canoeing and Bushcraft trip booked with us:
- Give us a call and discuss which canoeing and bushcraft wilderness stag do suits you best.
- We'll check availability and put a bespoke quote together for you.
- Once you and the group are happy with the price and information provided, a £50 deposit confirms your booking.
- We book everything for you.
- You're sent a link so that everyone can register and make their own individual payments.
Zero to hero in 5 simple steps, so don't be shy and get in touch today! These trips are very popular, so the longer you wait, the more booked up they're likely to be!
If you're not 100% set on a canoeing and bushcraft stag do (we're not sure why after everything above), below is also a list of other articles which you may like to look at for inspiration:
Highlights of outdoor adventure Stag Do Canoeing and Bushcraft trips
Explore your inner neanderthal.

Get away from crowded streets.

Wild camping.

Learn basic survival skills.

Have a great and memorable weekend with your friends.
Everything in this article was written with no guidance, but links to outside pages may have been used to relate to certain topics.
Share this article