Posted by
James Trenchard
Murder Mystery Weekends
What happens during a Murder Mystery weekend?
What they are - Murder mysteries are extremely popular for groups looking to do something really fun. The general idea (if you don't already know) is that you are all at a dinner as your character and whilst there, someone is heinously cut down and MURDERED! Your job over the course of an evening is to pick your way through all of the details you're given and work out whodunnit. If you've watched Sherlock, NCIS, Criminal Minds etc etc or are a big fan of classic authors such as Agatha Christie or Sir Arthur Conan Doyle and really fancy yourself as the next 'big-shot' detective, then you're certain to have a fantastic time. It also means that if you've binge-watched an entire series of Law and Order in a 3 day session, then you can (almost) justify it.
How they run - All Murder Mysteries are designed to be fun and are designed so that someone should be able to figure it out by the end the evening.
Where they are run - One of the biggest perks of a Murder Mystery break is the flexibility of where it can be run. These activities are perfect for a hotel stay. As an example of a hotel stay, arriving on a Friday at the hotel for a two night stay and the Murder Mystery on the Saturday night is the most popular format. Alternatively, Murder Mystery breaks are easily run at private accommodation, which provides even more comfort and flexibility. Both options mean that you don't have to travel and that you don't have to rush to get ready for the event.
What is included - All Murder Mysteries are private events, so it will only ever be people from your group that attend. The plot is already written and known in all its detail by the 2 professional actors who run and perform during our activity. Individual invitations will be sent to everyone in the group and an individual payment system will also be available for everyone. A character list will be sent out for everyone to choose their favourite characters for the event.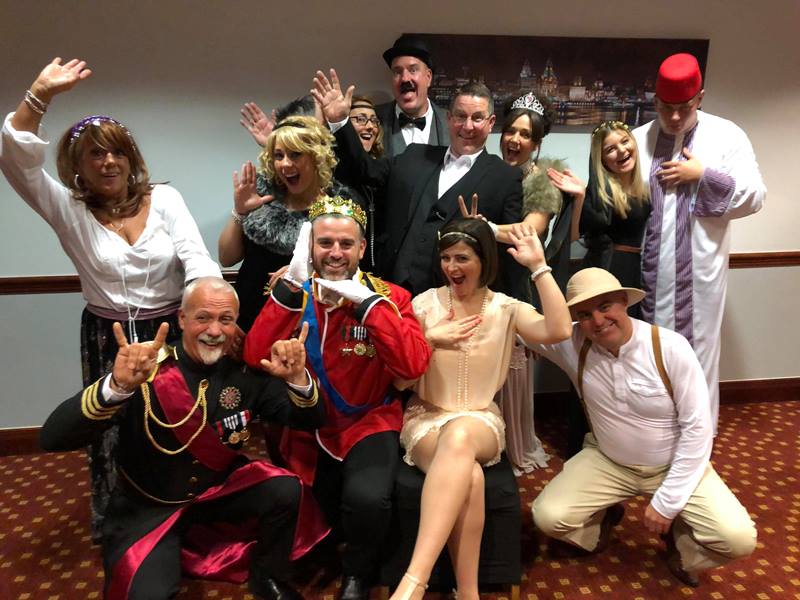 ~ Kings, queens, explorers and actors. Great fun dressing up to play your role ~
Murder Mystery breaks for all
Murder Mystery weekends are really popular because they are great fun for any group type. Below we'll run through what makes a Murder Mystery so special for any type of party/event:
Murder Mystery events for hen party groups are really popular. They are all about the hen and the main aim is for everyone to have fun. You can all dress up as some pretty spectacular characters, have great food and create loads of brilliant memories. It's also a great activity to get to know anyone that you don't know, which is quite common on a hen party weekend. Details about the groom can also be incorporated, to personalise your hen party murder mystery weekend.
Celebrate another year in style with a Murder Mystery break for your birthday. Get friends and family together to celebrate your birthday with a killer spin! Hopefully you'll last
the night and if you do, you'll be sure to have some great new memories after working through all of the clues to solve the case.
Have a laugh with your mates and celebrate the stag by trying to solve the murder case before any more are cut down in their prime (no guarantee that the stag is in his prime). Details of the bride to be can also be incorporated in to the plot, to make sure the stag doesn't forget why he's on a stag do. Although this might not be everyone's go-to stag do activity, they are always loads of fun and will definitely provide plenty of moments for a best-man speech.
Take on the challenge of solving a murder case. The perfect team-building exercise, working in either small groups or by table, put your heads together to run through all the clues and solve the case before the murderer strikes
again! Perfect as either a day/evening activity, or as a break for everyone.

It should also be noted that for any group, your Murder Mystery is a completely private event, so only be the people that you've invited will be attending. This means that you can feel more relaxed and truly enjoy your evening!
~ Try to stay alive by solving the case ~
Murder Mystery Venues
One of the best aspects of the Murder Mystery events is how many options there are for where you can book them. Most of our Murder Mystery breaks and weekends are run at Village Hotels. They are not run by the hotel, as we organise each event based on your requirement. Although Village Hotels have great facilities, rooms and food, we can book them at most hotels across the UK, providing that the hotel has meeting space or private dining areas, so you're by no means constrained to one brand of hotel. If you find a hotel you really like then we'll do the leg work and find out if it's possible to have a fantastic Murder Mystery event there.
Below is a list of some of the most popular destinations for Murder Mystery breaks. All are based on a stay at the village hotel. These hotels include use of leisure facilities, food and room hire for the event and breakfast:
Favourite hotel destinations for Murder Mystery breaks
England: North - Leeds ~ East - Watford ~ South - Bristol / Bournemouth ~ West - Chester ~ Central - Nottingham
Scotland - Edinburgh
Wales - Cardiff
Private accommodation offers a more flexible weekend and with so many private houses/flats spread over the UK, your options are fantastic. Being self-catering, you will have to organise your own food for the Murder Mystery, so you'll have to work out the general consensus between the group. Please contact us to discuss where in the UK you're interested in going. We will have suggestions based on your requirements and will help you to find the accommodation!
Murder Mystery Dining
Murder Mystery evenings work best with food incorporated. There are different options, based on where you're staying and what you would like to do. Meals give everyone the chance to fend off hunger and stay focused on the investigation. It will mean that you get the chance to have some thinking time about any clues and what has been said over the course of the evening. As part of a Murder Mystery, dining is a necessity to make sure the killer is found, as well as being damn tasty!
Have a look at the dining options below:

3 course meal at your hotel - If you've gone for the option of a hotel for your Murder Mystery break then this is perfect for you and the group. Have your own private room for the event, with the kitchen cooking up a 2 or 3 course meal to go along with the event. Perfect if you're looking to be tended on and are escaping from the never-ending cycle of cooking and cleaning at home!
Private Caterers - On a par with the above hotel option, outside caterers usually offer delicious food (either 2 or 3 course) which will be cooked and served at your accommodation, so you can sit back and relax in the comfort of a house/apartment whilst other people do everything for you. It's probably going to be the most expensive option of any dining idea, so you'll have to weigh everything up.
Take away or make your own - The other option if you're staying at private accommodation. This will definitely be the cheapest of all food options, but also come at the cost of having to make everything and clean everything between yourselves. That being said, you will be advised on timings, so all you'll need to try and do is stick to timings as best you can.
How to book your Murder Mystery weekend break
Give us a call at Essential Adventure and we'll organise everything for you. From checking availability and getting you a price, to booking everything and making sure that you have all the information you need, we'll make sure that you have an easy experience. We also offer individual payment accounts for all of your guests, meaning that you don't have to collect money from everyone.
Here are your next steps to get your Murder Mystery weekend booked:
> Get in touch by phone (this is best, but you can also make an online enquiry).
> We'll have a quick chat with you to find out exactly what you're looking for.
> A quote is put together and sent to you. We'll then make sure you're happy with everything in the quote.
> Once you're happy, a £50 deposit gets everything booked. We'll get everything booked for you following your deposit payment.
> Everyone is given a link to follow, to create their own online payment accounts with us.
> We'll discuss all of the details that you'll need and make sure that everything runs completely smoothly for you and the group.
And that's it! It's so simple that you'd be silly not to just get in touch!
What can I expect at a murder mystery night?
We've told you everything you need to know, from where you can book a Murder Mystery, to how they run and the dining ideas. In case you've forgotten anything from above, here's a key list of information about Murder Mystery breaks in the UK:
Exciting plots to make sure that everyone is entertained.

Choose from a list of very amusing characters to play.

All events are personalised to include details of the leader(s) of your gang.

Perfect for hen dos, birthday weekends and any other big events.

Flexible times and locations means you can have a Murder Mystery Weekend almost anywhere in the UK.
Share this article