Posted by
James Trenchard
Stag Outfits
Dressing up on a stag do is extremely popular and the stag do fancy dress you choose sends out your 'vibe' to everyone else. If you look around for what to dress up in for your stag do theme, you could be looking for days on end, there are that many. To save you precious time, we're going to offer up some of the most popular stag do outfits and stag do themes for you. Have a look through our list as the first thing you do as you'll almost certainly find something you like. If you can't find the exact thing you're after, chat to us and we'll see if we can provide any other ideas which will be right up your street.
We also put together great stag do packages with accommodation and activities, so consider us your one-stop-stag-do-shop. If you're looking for general stag do ideas we can also suggest the best places to go and things to do.
Have a look below to see some of the most hilarious stag do fancy dress ideas. Some of them are family friendly, others are definitely not, so make sure to look at the whole list and then keep going to see our suggested themes for an entire stag do weekend.
Stag Do Costumes
Fictional Stag Do Outfits
Our first picks for stag do dressing up are based in the worlds of imagination. Do you imagine being an Italian plumber? We've got you. Imagine being blue? We've smashed it! Have a look at our stag do fancy dress ideas below, all based on things you'll never actually be able to get away with in everyday life.
Heroes and Superheroes -
A great one if you're looking to hide your identity for an evening. There are loads of options with this fancy dress option.
You could choose to go as Batman with everyone else choosing other Batman characters, or go for a Marvel comic/film character (Deadpool would be pretty cool). Essentially though there are so many heroes and superheroes to choose from and if you throw villains in to the mix... there is a broad range of weird and wonderful stag outfits to pick from.
Mario characters - A lot of people have some great memories of two little plumbers in red and green, as well as a whole host of characters from toad stools to huge gorillas. Whether it's old-school mario or more modern era, this is an instantly recognisable fancy dress option. You could maybe even dress the stag as Princess Peach and everyone else dress as any other character they like. Especially great if the stag has any Italian heritage or if he's marrying someone who does.
Simpsons Characters - The Simpsons has so many characters (just type it into a search engine to see for yourself, if you aren't already aware) that you could have a dozen stag dos going as Simpson characters without one person dressing the same. It's also quite safe to say that we all know someone that has more than a few character traits similar to one or more characters on the show. You could also choose other shows like Family Guy or South Park, or the stag's favourite show.
Smurfs - We put this on here as for some reason, people like painting themselves blue and making an absolute mess . You'll probably wake up the next day and feel like you're in Eiffel 65's iconic song (any kids reading, see: 'the 90's'), but you'll definitely have had fun the night before.
~ The main characters of the stag do ~
Sports Stag Do Outfits
This section is for the sports fans out there. Whether it's balls or otherwise, there are plenty of hilarious stag do costumes from the sporting world which will make the stag feel like a champion.
Sumos - A really good choice for any stag do. It may not be the most practical of stag do fancy dress, but who cares when you look like a Japanese sporting hero? Get everyone in the same outfit and entertain yourselves with some impromptu sumo matches before heading to the dance floor and busting out your favourite moves... with a BIG difference.
Jockeys - Perfect if you're looking to play on the stag's height, but a great choice for any group really. If everyone commits, you could even make some money by holding your own day at the races.
Cool Runnings - You could become Jamaica's best ever bobsled team but even if you don't then you should at least have an awesome night dressed up like them. OK, sure, this is one of the more 'alternative' sporting suggestions, but could be an absolute laugh.
Golf - A relatively easy one to do and also one of the smartest-looking options on the entire list. This stag do outfit choice could also work really well in a sporting theme (see our theme suggestions at the bottom of this article).
Wrestlers - Everyone surely has a favourite wrestler (if not, stop reading), so whether it's classics like The Rock or modern day champs like A.J Styles, there is a spandex outfit choice for everyone!
Drag Stag Do Outfits
Dressing up as a woman is not a new thing and there are some frighteningly popular options out there.
The beautiful bride-to-be - A popular and pretty simple option is to dress the stag up as his wife-to-be. It will provide hilarity and provide the stag a 'behind the scenes' insight on to his fiance's world.
Freddie Mercury - Do you want to break free? An iconic choice of stag do fancy dress, but do you have legs like the legend that was Freddie Mercury? We'll wait and see.
Rocky Horror Picture Show - If you like stockings and suspenders, why not dress up in them? A hugely popular 'musical comedy horror' spawned some pretty outrageous characters and this seems a perfect match for a stag do.
Rude Stag Do Outfits
Large numbers of stag parties choose to dress the stag in, shall we say, slight 'less-appropriate' attire. There are some truly outrageous stag do outfits out there and these are the ones we think are the most hilarious. N.B. Be sure to only choose these outfits if you're not liable to be turned away from where you're heading (for some reason some places get a bit funny about carrying around large sex-toys etc).
Genitals - That's right, dress the stag up as a giant johnson (more hilarious if that's anywhere in his name) or even a vagina (he may get called this also, so might respond to the name). You can find inflatable costumes, or if you're looking for something a little more subtle, penises drawn on him, his clothes or other genital accessories* could be used in conjunction with other stag do outfits. *There are plenty of 'huge hanging penis' items of clothing out there, such as shorts/kilts/bikinis etc.
Gimp - This idea will give you plenty of photos to

show the grandkids

never show anyone... EVER. It's generally the stag that is given the role of 'gimp' and persuaded to get into his suit for an evening of entertainment. It will probably be an experience that he will never, ever, ever forget... whether he wants to or not.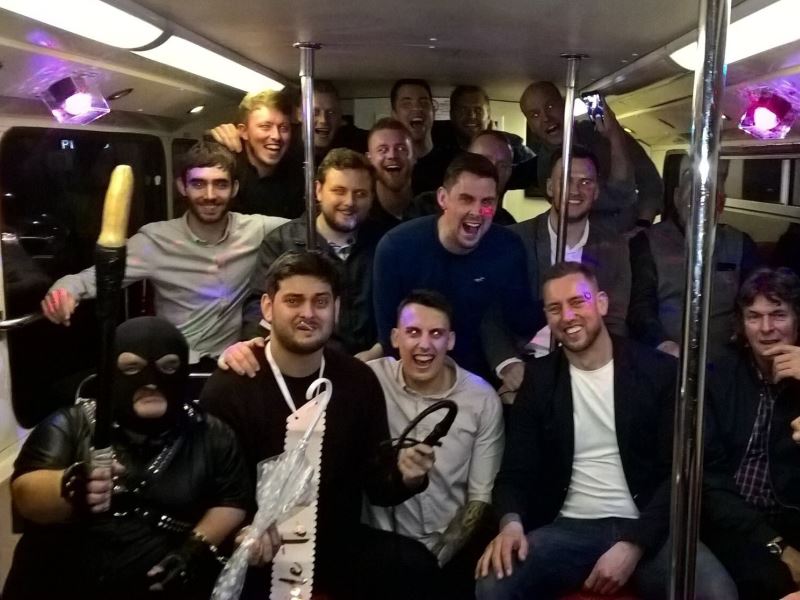 ~ Brings a whole new meaning to 'all-in' ~
Miscellaneous Stag Do Outfits
We've not run out of ideas yet, no. These are just a little bit more general/obscure, but still fantastic ideas for stag do costumes.
Morph - Another really easy one to do. Nice and budget-friendly, you can all choose different colours, or remain incognito and try to work out who is who over the course of an evening. Quite a 'snug' fit in certain areas though and not the thickest of material, so we'd advise this in the summer.
Lederhosen - Some people go crazy for a taste of Germany with traditional Bavarian get-up. A great one to have even more reason to go and drink some fine beers and eat some sausage!
TV and film - Mr. Blobby, Ali G, James Bond and thousands of other choices mean that choosing someone from the world of TV and film provides so many options. Choose the stag's favourite film or TV programmes/personalities and go wild.
Toy Soldiers - Go full 'toy solider' in all green and take over anywhere you go. Just be mindful that some venues may not appreciate guns being taken around.
T-rex - Not the band, but the ferocious predator that played such a key role in Jurrasic Park. Form a 'terror' of T-Rex and create absolute havoc on the streets of whichever stag do destination you head to.
Horrendous Suits - There are thousands of truly disgusting suits out there and you can choose any of them for the stag. A reasonably cost-effective choice and plenty of scope for small to large group sizes.
Stag Do Themes
You could just spend an evening in fancy dress, or you could go the whole hog and choose to have a stag do theme which runs throughout the weekend. Have a look below to see some suggested stag do themes, including some activity ideas for each one.
James Bond
Dress up like a boss throughout the weekend, head to a casino, do some driving and shooting and then have a few Martinis (we've heard that Bond also likes a good cup of tea, so either of these will do). There are loads of different variations of the activities we've mentioned, but the main part is acting like you're a spy for the weekend, just without the weaponry.
Game of Thrones
If the stag fancies himself as the next ruler of The North, then you could choose a GOT theme for the stag do. Try your hand at slaying the competition at something like archery and/or axe throwing, chuck in some debauchery in the form a strip club and you'll feel just like you're part of the monumental TV series.
Survival
If you're looking for something to prove that you could outlast a zombie apocalypse or an I Am Legend type viral 'thing' then you could spend a weekend on a canoeing and bushcraft trip in the wilderness or add in something like zombie target assault rifle shooting to your stag weekend.
Combat
You love shooting stuff online and fancy that you'll have amazing accuracy in real life too, so why not put your money where your mouth is and try your hand at something like Assault rifles, paintball, clay pigeon shooting and/or axe throwing. You could also take your console(s) and TV(s) along with you for the weekend and set up a 'death-hub' with multiple screens and consoles all set up for the same games.
Sports Fanatics
For the more active of you, there are plenty of ways to get your sporting blood pumping. Set up a round of Pub golf (make your own scorecard here), go karting or driving (Rebel buggies also rule), see a match of your choice, take on a round of footgolf and/or ghetto golf and generally set yourself up for SPORTS! You could also find somewhere with a Foosball Table and book a table at a sports bar to keep up with the theme and enjoy a great time!
The Stag Do - Getting It Booked
We've loaded you up with all kinds of thoughts and images in your head that you will never be able to un-imagine, but just consider that you could see any of these stag do fancy dress options in real life (lucky, lucky you). There are pretty much unlimited stag do outfit options in the world, so although our list demonstrates some of the most popular, it is by no means definitive. If you have any other ideas, let us know and we can help to put the perfect weekend together for you, from accommodation to the activities and everything in between.
We'll even book everything for you with an initial deposit, set up everyone with their own online payment accounts and provide you with a detailed itinerary to show you where to go and what you'll be doing.
A Stag Do Fancy Dress Summary
Here's a run-down of some of the most popular stag do outfits/themes chosen by other groups/weirdos:
Batman

Superman

Mario characters

Simpsons Characters

Smurfs

Genitals

Gimp

Sumos

Jockeys

Cool Runnings

Golf

Wrestlers

The beautiful bride-to-be

Freddie Mercury

Rocky Horror Picture Show

Morph

TV and film

Toy Soldiers

T-rex

Horrendous Suits
Share this article