Posted by
James Trenchard
Amazing Sporty Hen Do Ideas
If the hen is a P.E teacher, athlete (doesn't need to be a pro) or just enjoys getting out and being active, our list of sporty hen party ideas should give you enough inspiration to organise an amazing hen weekend and keep everyone thoroughly entertained. There are any number of sporty hen party activities and we'll list the best for you, based on how high you're likely to work your body.
If at any point you want to talk through your sporty hen party ideas, or hen party ideas in general, then simply get on the phone and we'll be more than happy to help.
Keep reading... we're now going to run through the best of the sporty hen do ideas now:
Adventurous hen do sports
Adventure and sport are an awesome combination. There are some fantastic sporty hen party ideas which will provide the group with some lasting memories and a great time when taking part. The sporty hen do activities below are generally more active and outdoors, perfect for an adventurous hen weekend.
- There is plenty of sporty adventure to be had on a hen party weekend -
Head to a number of great hen party destinations and you'll be able to choose Coasteering to keep your adrenaline levels up. You'll have loads of fun jumping from the coastline into the sea and exploring the awesome scenery. Some locations have naturally formed bridges and tunnels, carved by the power of the sea which you'll be able to explore further. It's usually a 3 hour session, meaning you will have hours of heart-pumping fun!
You can also head in-land to a selection of rivers and you'll find that Gorge Scrambling is an extremely popular hen do activity, especially for the sporty types out there. It's essentially a land-based version of Coasteering, whereby you'll walk against the flow of a river, climbing, jumping in pools and generally having a blast! It's limited to a few locations across the UK but is an amazingly sporty hen party idea.
Being sporty and adventurous doesn't mean you have to do something water-based. Fine, there aren't too many actual mountains in the UK, but the mountains that are here provide an opportunity to do some scrambling, ridge walking and taking in the spectacular panoramic views. Obviously this is limited to more remote locations, so it's worth making sure everyone is happy to spend the weekend away from major towns and cities (or are happy to travel).
Climb to great heights and then abseil down again if you've got a head for heights. There are indoor and outdoor sites across the UK, with instructors at the ready. There's even a site on the coast which provides 1) stunning scenery and 2) climbing with the sound of the sea behind you. An ideal sporty hen party idea for anyone looking for a quicker activity.
If you're looking for a full weekend of adventure for the hen party, check out our article on canoe and bushcraft trips (it's about stag dos, but there's no reason a hen weekend can't do one) to see if it's something you and the group are happy to consider.
Classic hen party sports activities
There are some absolute staple sporty hen party ideas, chosen by loads of groups and for good reason. Take a look at the selection of 'the classics' below and you'll see why.
A dance class as part of a hen party weekend is one of the most popular choices to go with in general, so if it's a sporty hen party activity you're looking for, then why are you even having to think about it as an option? Dance classes can be run pretty much anywhere across the UK, even at private accommodation (depending on the space available) and this coupled with it being one of the simplest hen party ideas makes it an exceptional hen party activity.
Example themes: Dirty Dancing, Beyonce, Thriller, Grease, Britney, 80s. Most of the time you can request a theme and the instructor will be able to choreograph a routine, or may even have one already.
It's also great to choose if you have a specific hen party theme in mind.
It says 'sports day', so you know it will fit the brief of a sporty hen party idea like a glove. Much like a dance class, these can be run in almost any location throughout the UK and again, at private houses if the garden is big enough. Including such amazing games as space hopper races, tug-of-war, egg and spoon race and all of your other school sports day favourites, have a blast on the hen do weekend with a hen party school sports day.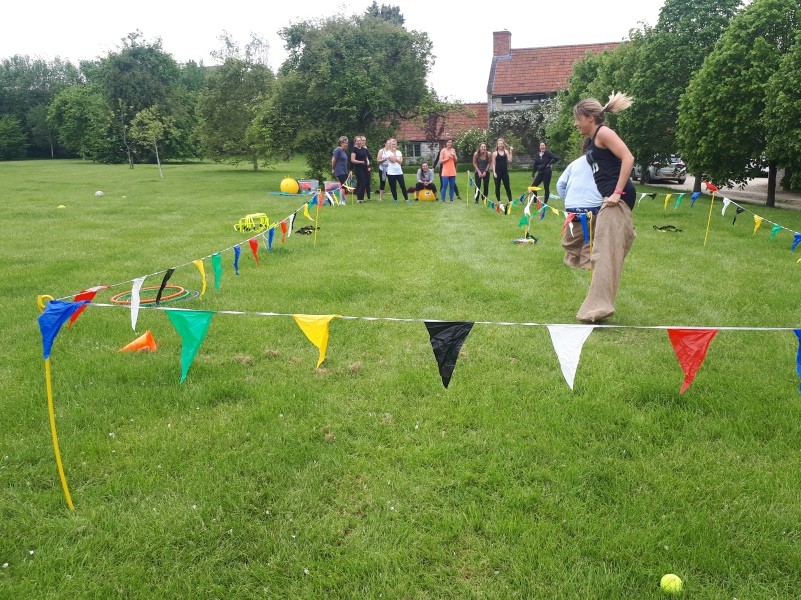 - Get the sack and have a laugh at the same time with a school sports day -
Crazy hen do sports ideas
The crazier the better for some people and so why should it be any different for a hen party? In fact, hen parties can be pretty crazy themselves, so add one of these wicked sporty hen party activities to the weekend to keep it crazy.
Water and ropes... we're still talking about an assault course, but you can keep your mind on the dirt as there will plenty of it to tackle at an assault course. There are plenty across the UK to choose from and most offer the same kind of deal. From climbing nets to water-filled ditches and plenty more, an assault course will provide much entertainment on the hen weekend.
One of the only sporty hen party ideas where you're going to get dressed up with the purpose of being able to run into each other at full pace. Don't worry, the bubble suit you'll be wearing will mean that you'll simply bounce off of one another. There are a variety of extraordinary games to play, including bulldog (screw the playground bans) and last person standing. Truly a crazy sporty hen do idea.
If you're thinking of heading to Newcastle, then a sporty (but more crazy than sporty) hen party idea would be taking part in 10 hilarious games, including inflatable suits, sweeping arms and much more. Keep your wits about you and try not to lose yourself in fits of laughter when others get hilariously wiped out.
Along the same lines, if you're looking at a trip to Liverpool (or Manchester) then perhaps you could consider the Mersey Games. With loads of crazy games, including 'You'll Never Walk Alone', this will keep you laughing all weekend, just thinking about it.
Based on a TV show that only some people reading this will be able to remember, this is where games like the Mersey and Geordie Games originated from. With lots of foam, plenty of big inflatables and lots of opportunities to laugh at everyone in the group, this is an awesome, crazy, sporty hen party idea. It's also available in some of the best hen party destinations in the UK and is popular with hundreds of groups every year.
Total Knockout **NEW for 2020**
We're not talking about boxing here, so don't panic, it's not that kind of crazy. The company responsible for running It's A Knockout have created something even more crazy than it's sister activity. Combining the best parts of It's A Knockout and Totally Wiped Out makes for a sensational, sporty hen do activity. With big red balls (you read that correctly), foam, inflatables and much, MUCH more to keep you entertained, you should definitely consider this.
- Team work might help, but probably not -
The Welsh version of the above sporty hen do ideas. Offering Welsh alternatives, perfect to embrace to country you're in a 'blend in'. Head 'Across The Taff' or beat someone in the 'Leek Duel' and compete to show your Welsh heritage (we're not sure you'll be able to claim a Welsh passport just for taking part though). If you're interested in this sporty hen do idea, just be aware that it only runs in one location, so it's probably worth discussing your plans with us to make sure it works with your plans.
'Cider Run' and 'Welly Wanging' are just a couple of the outrageous games that you'll take part in if you decide to do this great activity. If you're looking to keep your sporty hen party in the south west, then you should certainly put this idea to the group and embrace the stupidity of it all!
Around the country you will find several water parks with huge inflatables. We've put this one in crazy as it has the potential to be pretty 'nuts'. If you're looking for something where everyone can choose their own level of crazy and have a load of fun whatever they choose, this is a great idea. Spend around an hour climbing around the inflatables and jumping off in various fashions. A great one for the hot summer months.
Gentle sports for a hen party
Not all sports have to be as 'out there' as the last few we've told you about. If you're looking for something a little more relaxed then here's a couple of activity ideas to consider.
GPS Treasure Hunt
You can do this in pretty much any town or city through the UK and they can even be tailored for your requirements. You'll be given a set of clues to follow, with the group splitting into teams and involving various games/challenges along the way. A nice way to kill some time, have a chat with other people on the hen party and see the sights of wherever you're staying.
Saddle-up and see the sights of the local area from a different perspective. Horse treks are becoming more and more popular and it's not difficult to see why. Getting away from noise and busy streets on horse-back sounds pretty damn relaxing.
Book your Sporty Hen Party Activities
Now you're pumped up and ready to spring into action, get your hen party booked with us and start warming up now in preparation. It's so simple to book a sporty hen party with us, just get in touch and we'll run you through every step of the process. We offer some fantastic services;
1) We'll put together as many quotes as you need until you have the perfect weekend in front of you.
2) With a small deposit, we will book everything for you.
3) We have an individual payment system for everyone in the group, so you don't have to spend all of your time chasing people for money.
4) We will look after everything for your trip and provide you with a detailed itinerary.
Don't delay or you'll regret it, just give us a call or drop us a message.
A summary of the best sporty hen do ideas
There are so many fantastic sporty hen party ideas to choose from and we'll give you a great starting point, as the most popular activities are in the list below:
Total Knockout **NEW for 2020**

GPS Treasure Hunt
Share this article