Posted by
James Trenchard
Top Ideas For Planning a Hen Party Weekend
Being tasked with organising and working out how to plan a hen party weekend may be up there with the most stressful and time-consuming events that you'll ever be tasked with organising. If you've never had to organise anything like this before then your head will likely start spinning and you'll feel the need to sit down and have a stiff drink before even getting started.
Thankfully, we've got your back and are about to lend you a virtual hand, as to the rough order in which things should be considered. This will hopefully assist you greatly but if at any point during the hen party planning process you have an unanswered question, get on the phone and ask us whatever it is that has you stuck. We'll be more likely to unstick your brain with a quick chat and can set you back on the right path again.
Now you have the brief, let's get into it!
Who Should Be Invited On A Hen Party Weekend?
The first thing to consider when working out how to plan a hen party is deciding who goes. A great hen party weekend will ultimately be created because the bride has everyone around her who she is good friends with. It the general hen party weekend is going to be a surprise, no problem, but if there's one part which the bride-to-be should definitely be involved in, it's discussing who she wants to spend the awesome weekend with.
There may be friends who the hen would like at her weekend of celebration but thinks it too unlikely that they'll be able to make it. For anyone falling in this category, it's certainly worth discussing them with the bridesmaids/famliy members to see if you can work out how to sort this. The element of surprise doesn't have to be confined to the where and what. A surprise appearance by a close friend is likely to set a great tone for the whole weekend.
Of course, you have the obvious close friends and there is also a certain requirement to invite some family members (including future in-laws; sisters/mothers etc). It's a great way for the bride-to-be to let loose with family members and let them also join in with a celebration of the bride-to be. Having mothers and/or (apologies in advance, this is a cringe-inducing statement) 'older' group members shouldn't deter you from any specific activities however. In our experience, the older generations often join in even with the more 'extreme' hen party activities or, they let everyone else take part and act as the camera person to capture everything for the group.
The final point is that it's a great thing that you (probably) won't know everyone and you will almost certainly come away from the weekend with some new friends.
- Invite whoever is going to make the hen party weekend special for the bride-to-be -
The Hen Party Destination
So you've got the who sorted. Now for the where! This is a critical component of how plan a hen party weekend. There are several things to think about when planning the hen party destination, all of which are relatively simple, but it may take some discussion to pin-point the exact location. All of the points below are intrinsically linked and you'll need to think about all of them at the same time, but we'll break it all down to try and make it easier to figure it all out.
Where is everyone based?
The hen's friends and family may roughly all be from the same area and so where to go could be a similar detail for everyone. If people are scattered though, you'll all need to have a chat and agree on a hen party destination that suits all requirements.
Home or Away?
Based on the point above, does everyone want to travel a good distance or keep it as local as possible? if there are lots of people travelling in roughly the same direction, car sharing can really bring costs down so a long trip might not work out to be very expensive. Public transport and companies like Megabus can also yield cheap travel options. You may want to use your money to choose some mega hen party activities though and so choosing a more local hen party destination should help to allow this.
Special places
It's quite common to have people on the list who met the hen at Uni or school, or a destination from her past. Choosing somewhere with a sentimental attachment could be a fantastic idea, especially if (for example) she hasn't been to that place in a long time. Seeing the sights she used to explore and re-visiting them with old friends might just add another special element to the hen party weekend.
Travel costs
The final and very important thing to consider when figuring out how to plan a hen party destination, is the travel costs for everyone. No-one is going to want to go on a hen party weekend where getting to the event sets them back significantly. Just being on a hen party weekend can be a pretty expensive thing on its own. We've already touched on lift sharing and cheap public transport and we reiterate that this is a great option. Also, it's worth having a look at our suggestions of the best hen party destinations, or, our general blog page has some great and more detailed articles on specific hen party destinations.
The other travel costs will be taxis and transport whilst on the weekend, so it's important to consider/discuss the activities and accommodation choices with everyone, so that you can work out the costs before they bite you during the weekend.
Hen Party Accommodation
Wrapping your grey matter around how to plan a hen party weekend is tricky and choosing where to stay is a massive aspect of a hen do. Ultimately, there are a couple of different options to consider:
- Hotel: This is the simplest place to stay for a hen party weekend. Everything you need is usually available at a hotel. This can include food; so breakfast, lunch and dinner will be possible if the hotel has a restaurant and you're not fussed about going elsewhere, leisure facilities such as a pool and/or gym, function rooms for activities (see our write up about great Murder Mystery evenings which can usually be run at your hotel of choice and are very popular with hen parties) and more. Some hotels also offer great rates with bed and breakfast as a minimum, so you don't have to break the bank to stay at an awesome hotel for the hen party weekend.
- Private accommodation: A really lovely option for a hen party weekend as it gives you a bit more time to chill, it will be less strict with meal times (breakfast can simply be when you wake up, rather than within a set time period) and generally be a bit more like home. This option can be a bit pricier than staying at a hotel but there are some great houses to choose from and if you're looking to stay away from major towns and cities then this is a very good choice. Some activities, e.g a hen party school sports day, can even come to you so you can stay put all weekend and not have to travel anywhere else.
- Off-grid: For those of you looking to escape from busy life, traffic and general chaos, there are some great and more rural places to choose as your hen party accommodation. If you're looking for some adventure, choosing a hen party canoeing and bushcraft trip is awesome, have a look at more details here (in summary, canoe, learn some basic survival skills and camp overnight). Maybe a yurt campsite would be better, often housing wood burning stoves, double beds and being generally a lovely place to stay. Both of these options are amazing for a hen party weekend and will leave everyone with some great memories.
We've put together a more comprehensive list of what to think about when considering how to plan hen party accommodation, so it may be worth checking it out here.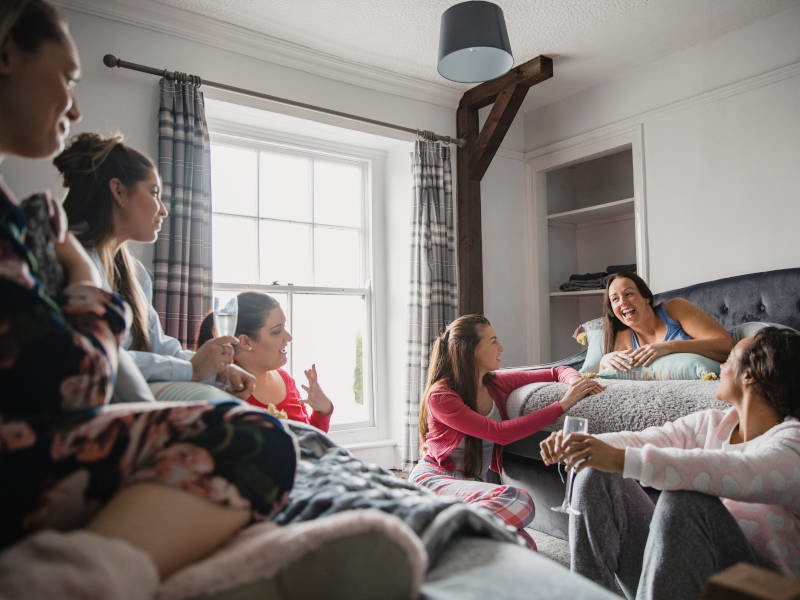 - Make sure to chat about where you're staying with everyone -
Hen Party Activities
The penultimate section on our list of how to plan a hen party weekend is based on the things you choose to do. There are so many great things to try whilst on a hen party weekend but the best thing to do is decide on activities that you all think the hen will love. Take a look at our hen party activities page for some inspiration or, if you know what you're looking for, where it can be done.
The group's joint knowledge of the hen will mean that you can pick hen party activities which you all agree that she'll love. If you're a bit stuck for ideas, it's worth thinking about where you met, what hobbies she has and possibly even her job. You may even decide on one of these great hen party themes and base the activities around this.
However you decide which hen party activities to do, there are so many to choose from that you're certain to have an amazing weekend.
The Budget
To round off our guide on how to plan a hen party weekend we're going to round it off with one of the more 'serious' aspects of the planning process. The cost of a hen party weekend is a critical part of planning a hen party weekend as it could mean the difference between a few or all of the hen's friends and family members attending. Whilst you may want to do loads of things, stay in a fancy-pants hotel and live like (yaaas) queens, you will more than likely have to strike a balance between what you'd like and what EVERYONE can afford.
You can definitely choose some amazing activities and keep everyone happy with the price. Take a look at our simple hen party ideas blog as simplicity often means less travel, more things to do in one place and therefore should help to give you an idea of how you can keep everyone as happy as possible.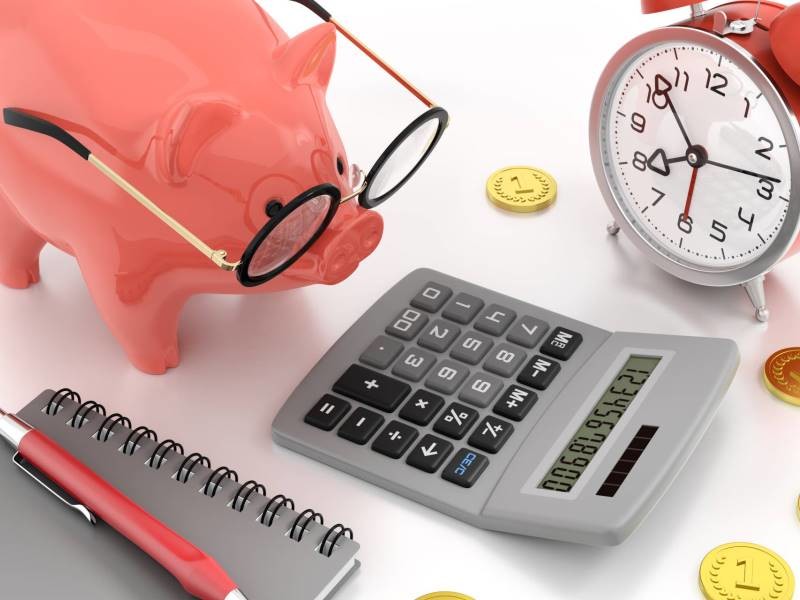 - A budget will help to keep everyone happy -
A Summary Of How To Plan A Hen Party Weekend
We hope that our guide on how to plan a hen party weekend has given you lots of ideas and will help to guide you on the path of planning a superb hen party weekend. Just in case you missed anything, here's a quick run-down of how to plan the perfect hen party:
Consider who to invite

Work out the hen party destination

Where is everyone travelling from?

Travel costs

Where to stay

What activities to choose

The budget
Share this article