Posted by
James Trenchard
Relaxing Stag Do Weekends
So, you don't want to have a mad one for the stag do and that is fine by us. You might not be far from the day of the wedding and looking for a last-minute break, or you might just not like the usual stag do furore. There are plenty of ways to keep everything on the quiet for the stag do. As you're looking for a quiet stag do, we'll give you some pointers, but don't want to give you thousands of things to think about, otherwise we'll defeat the whole purpose of planning a relaxed stag do. If you're a doer rather than a reader, give us a quick call and we'll happily discuss all of your relaxed stag do ideas.
Relaxed Stag Do Destinations
Different places will be relaxing for different groups, but it's arguably one of the most important things to consider. To keep a stag do nice and relaxed, your surroundings are key. Head to a quiet spot outside of major towns and cities. Countryside and coastal destinations are great relaxed stag do ideas. They allow you to escape from the normal bustle of big towns and cities (providing you don't choose a large coastal/countryside town or city).
Examples of the best destinations to head to for a relaxed stag do are:
Devon - Plenty of coastline as well as Dartmoor National Park mean plenty of places to escape. Plenty of countryside and coast to explore.
Dorset - A huge area of outstanding natural beauty and the Jurassic coastline make two good cases as to why Dorset is great for a relaxing stag do.
Brecon Beacons - One of the largest National Parks in the UK offers a great escape and also has lots of great activities to choose from within.
With all three of these places being in the South West of the UK, if you like these it may be worth taking a look at our other article about South West Stag destinations to see if there's anywhere else that you might want to consider.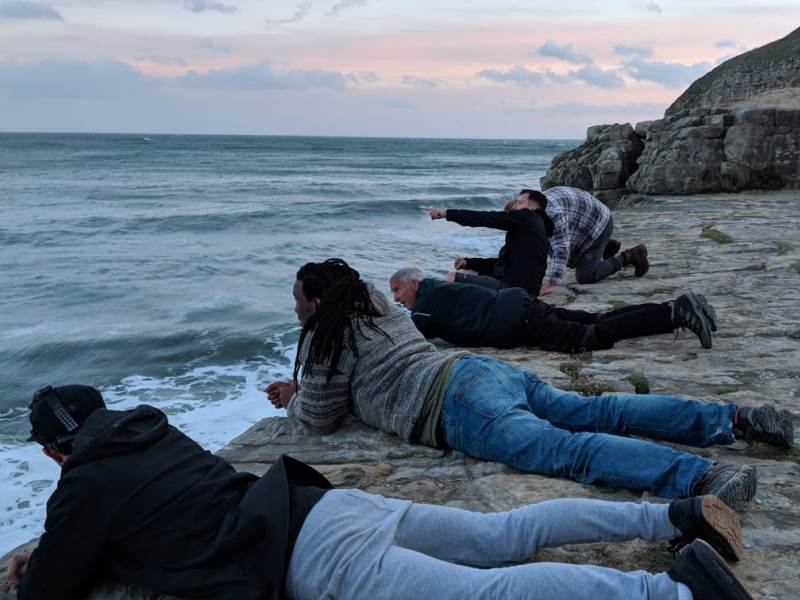 ~ Have a lie down and relax ~
Relaxed Stag Do Activities
Any activity that rapidly increases the heart rate has been left out of the list of activities. There may be an activity that you find relaxing that isn't on the list, so just let us know, but the list below is aimed generally at helping to keep things light, easy and relaxed.
Spa day/treatments - Maybe an unorthodox start to a list for stag do activities, but we're not writing this to please the masses. Chill out at a spa or have therapists travel to wherever you're staying and keep everything as relaxed as possible. Manicures, pedicures and back massages are amazing for a relaxing stag do, but you could also just head to a spa and spend a few hours in a pool/sauna/steam room etc.
Canoeing and bushcraft - Now we head in the opposite (but still very relaxed) direction. Head out with everyone for an overnight stay in the wild. Set off in Canadian-style canoes, learn some bushcraft and survival skills and generally spend 24-48 hours relaxing away from civilisation.
Brewery Tour - Get a tour of a brewery, sample some of their brews, have a bite to eat and generally just chill out. No madness, no stress.
Sports matches - Head to a game of your choice, whether it's Rugby, Football or other and enjoy the fact that you're not doing the running around.
Evening meal - Book a meal somewhere which serves the food you like. Go in, relax for the evening (or a couple of hours at the very least) and head home or on to another relaxed stag do activity.
Water park - This is an activity that probably raises the heart-rate the most of all the activities in this post, but we think it's still relatively relaxed. Head to one of the few inflatable water parks across the country to have a bit of fun.
Country pub - If you're staying in the countryside, a country pub will be a great relaxed stag do idea. Experience some local tipples, food and maybe even sample some local traditions.
Archery - A nice relaxed stag do idea, releasing stress with every arrow which is let loose.
Air rifles - Again, a simple activity, but satisfying and stress-free. No heart rates will jump through the roof, but you'll still have fun.
Crossbows - Powerful, precise and fun. Great for a relaxed stag do and superb fun. Available at lots of places across the UK.
Clay Pigeon Shooting - The final shooting activity on the list is also one of the most popular with stag dos. When you get it right, it's also one of the most satisfying. We would say to pretend that each clay pigeon is a life-stress and blast them away.
Night out - If you do find nights out relaxing, make them even more relaxing by booking a VIP booth with drinks or getting guest list passes to keep things stress free on the night.
As well as the great suggestions above, there are always great time-filling activities which cost very little or are even free. Go for a walk and explore the countryside, coastline or town and chill out. Head to a beach for a BBQ (please be responsible with your BBQing and all related rubbish) and a bit of a swim or head to a local park or council playing field to participate in a little session of the group's favourite sport(s) (obviously you'll need to take your own ball/frisbee/nerf etc).
~ Head to the beach to cook up a feast and chill ~
For the best ways to keep stag do organisation easy, you may also want to have a look at our easy stag do article.
Where To Stay To Keep The Stag Do Relaxed
Where you stay for the stag do can make a massive difference to how relaxed the weekend is. Obviously, this depends on what the group like and will vary from group-to-group, but see our 'key points' below.
Private accommodation - Generally a pretty relaxed option, as you can wake up when you like (as long as you make it for any activities), flexible meal times, the bar won't shut, you can walk around in 'leisure-wear' without too many people giving you a second look (they'll probably be dressed in a similar manner) and usually a bit more comfortable than a hotel. You'll just have to get your own food and if it's very remote, work out transport in a bit more detail, but the relaxed vibes outweigh the small extra bits of 'admin' surrounding private accommodation in our view.
Hotels - Although the relaxed atmosphere of a house is good, hotels have their own relaxed 'plus-points'. If you choose a hotel with good transport links, this takes some effort out of the weekend. Choosing a hotel with a restaurant will mean you won't have to go anywhere if you don't want to. A hotel close to any activities will take stress out of travelling to and from anything you're doing (this does, however, also apply to private accommodation too of course).
Canal boat weekend - We've written all about these in another of our fantastic articles, which can be seen here and this will show you why these are a great relaxed stag do idea. Quick summary - cruising pace, won't see masses of people, some spectacular scenery, can pretty much do as much or little as you like.
Planning Travel For A Relaxed Stag Do
Whilst on a stag do, travel can be a big stress factor. It's probably also worth keeping activities to a minimum, to make sure that you're not always on the move and travel plans are kept light, but when travelling anywhere, consider the following ideas:
Taxis - Pre-booked taxis are best as it will guarantee that there are actually taxis available, which is also a great idea if you're staying outside of a town or city. In town and city centres there will usually be a taxi rank so you can just hop in taxis. Either way, you'll get driven to your preferred destinations without having to think about things too much.
Minibus - Booking a minibus could be a great idea as it should mean that everyone stays together. Generally they have to be pre-booked.
Public Transport - Buses and trains are pretty chilled options. The only thing you'll really need to check is the timetables, it just might be less frequent out in the sticks for these services.
Walk - If your activities aren't too far away, you could always walk. On the other-hand, it could be nice to have a nice long walk through the countryside to get to your chosen activities.
Some of these travel options will be nice and relaxing, but if you're looking for cheaper ideas (and faster than walking), then have a look at our top tips for a budget stag do in Bournemouth, Bristol and Nottingham.
~ Relax all the way through the stag do process ~
Getting Your Relaxed Stag Do Booked
Booking a stag do should be nice and relaxed and that's what we're here for. We'll help to keep you nice and calm throughout the whole process, which is what everyone wants. Tell us what you're looking at doing and where and we will put together a quote (or quotes) for you to look at and share with the group. Once happy, put a £50 deposit down and we'll book everything for you. Everyone included in the stag do will be given their own online accounts to make payments, so you won't have to spend hours chasing people you barely know. We will even send out reminders to the group for the payment dates. From top to bottom, we've got this, so you can kick-back and stay relaxed!
The next thing to do is to get in touch with us!
A Relaxed Stag Do Summary
Staying relaxed whilst organising a stag do can be easy, just have a look at our top tips:
Head to the countryside/coast

Consider your accommodation and activities carefully

Find a balance of activities and chill time

Don't over-fill the weekend with things to do

Take a look at the full article for more detail...
Share this article